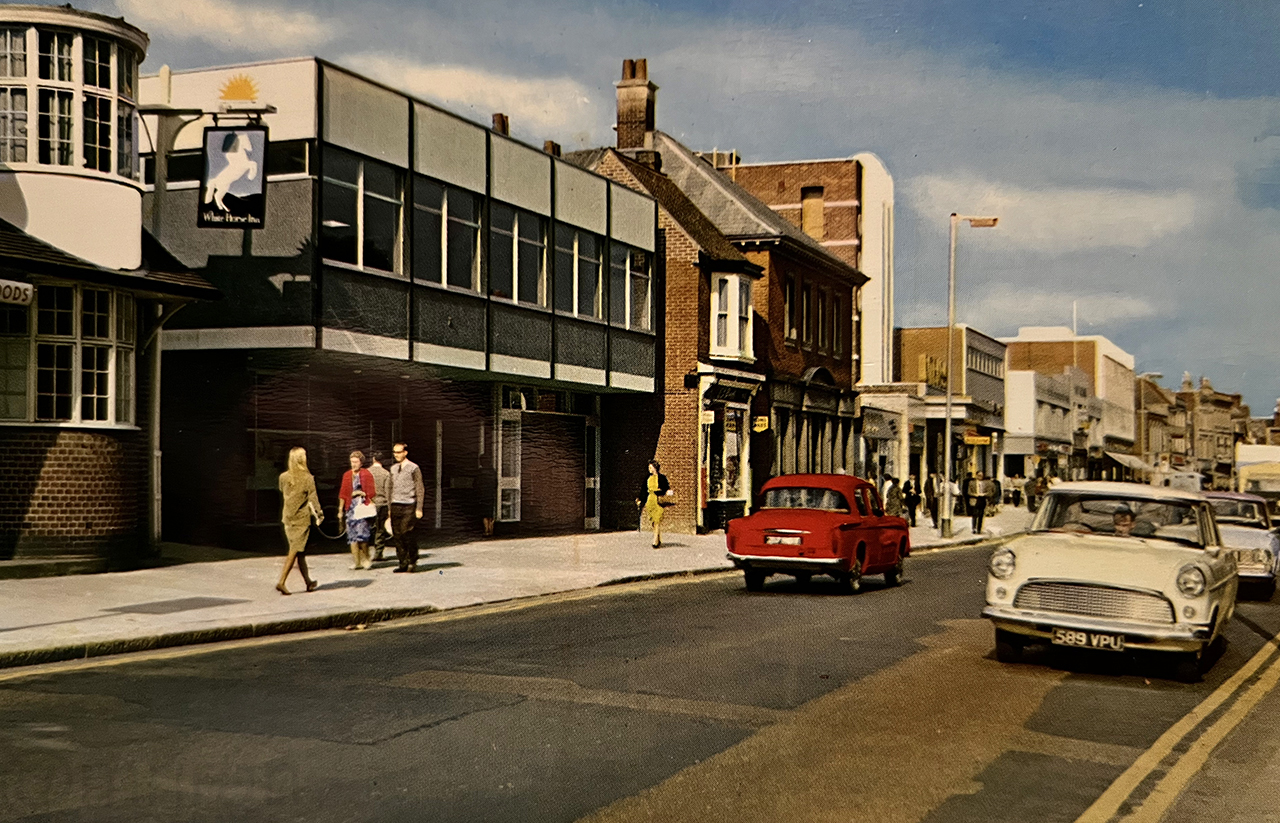 Rather than list every single shop on the West Street page and everything people could remember about them, I thought it would be easier to list them all here. This list doesn't claim to be exhaustive - it's a combination of stores I can remember, and ones people have told me I've forgotten.
Each listing is from the east end to the west end, because that's the way I usually walk it. The list of current occupiers is correct to February 2014.
North Side
Shop
Current Purpose
Notes
High Street News
newsagents
Mrs. Hills' traditional 'corner shop'. Founded 1993, previously Brighter Homes decorators and Fabric House.
Fareham Sight
charity shop
Previously BIJOU (2010), Fox & Sons, Grandford Carpets & Beds, Three Castles, G D Allan
Para Siempre
dress shop
Previously Direct Spex (2010)
Verelle Hairdressing Ltd/Academy at no 5
hairdressers
Previously Keasts toy store, a large toy store which sold pushchairs too. A grand sloping roof has been removed.
Whitecross Dental Care
dentist
Previously Stationary Store (2009), Tracy's Furniture Store (1950s-70s) A grand sloping roof has been removed.
Chaplins
estate agents
Previously Your Move.
Nirvana
hairdressers
vacant
Previously Batchelor & Son chemist.
Platinum Tattoo
tattooists
Previously Hill's greengrocers, Sutton stationers.
Fareham TV & Audio Centre
electronics
Previously branded AV World. Under both names carried Sony and Pioneer branding. Before that Phillips & Son.
Pearsons
estate agents
Previously Millbank.
vacant
Previously Davis World Travel
Church Path (BHS back exit)
Built 1981, replaced a shop (unknown)
vacant
Was used to promote Girl Guiding. Built 1981. Approximate location of Dodges.
shopping centre entrance (Osborn Mall)
Built 1981, on the rough location of Pyle's Alley and the White Hart, Paragon Hotel, Pyle's Bakery, later Tesco groceries. Refurbishments include 2013. Quietest entrance of the three.
Millets
outdoors
Built on the site of The Coffee Lounge, Priory.
Specsavers
opticians
Knocked through to former La Senza unit. Previously Stead and Simpson shoes.
SportsDirect.co.uk
sportswear
Supermarket unit. Previously Co-Op (2010), Somerfield (2004), Gateway, International Stores, Mac Markets and Mac Fisheries.
Lloyds Bank
bank
Previously branded Lloyds TSB.
Room
Previously South Coast Furnishings, FADS, Credit Crunchers.
Rowans Hospice
charity shop
Previously The Framing Centre, F Meyer's greengrocers, Home and Colonial Stores - the advert can still be seen on the wall.
alley to back of shops
British Heart Foundation
charity shop
Briefly Cheeky Cow milkshakes.
La Gallerie
Debra
charity shop
Star Nails and Beauty
beauticians
Previously NCH charity shop, Leeds Permanent Building Society.
La Brioche
restaurant
Previously Electronequip (1990s), Corbins shoe shop?
Coral
bookmakers
Previously Cafe Sorento.
Boots Opticians
opticians
shopping centre entrance (Westbury Mall)
Built 1975. Refurbishments include 2013.
Ernest Jones
jewellers
Barclays
bank
HSBC
bank
Follows through to Shopping Centre. Originally Midland Bank.
Santander
bank
Previous Abbey (2010), Abbey National (1980s-2003), Harlequin Cleaners. Snooker Club upstairs.
Hadleigh
gift shop
Previously Fareham Toy Store, Dyers, Electrone Quip.
Leightons Opticians
opticians
Previously Quality Seconds clothes, Pickfords Travel.
Early Learning Centre
toy shop
Previously Previously Compleat Cookshop, Share drug store
Burger King
fast food
Opened as Wimpy, with Rama hair studios upstairs.
shopping centre entrance (Delme Mall)
Built 1975. Refurbishments include 2013. Previously a solicitors, dentist and library here.
Thomas Cook
travel agents
Previously Harveys, Birkett & Walsh. Had a snooker club upstairs.
Halifax
bank
Previously Currys, Kitchens, SBS, Brutton, Midland Bank - which is now owned by HSBC, and knocked through to Mary Rose, Halfords (1970s-2000s) - who had a shopping centre entrance
99p Store
budget store
Previously Family Bargains (2012), Woolworths (2008), Savoy House Cinema (1933-1959). Back end was annexed and raised to form Next in Delme Mall. Fondly remembered for its restaurant, chart music and pick 'n' mix.
CEX
gaming
Previously Rosebys, Curry's. There was a tobacconist here.
Eden Mobility
Previously Stead and Simpson (2011), Shoefayre (2008), SBS European Kitchens, Maynard's sweet shop
WHSmith
bookstore
Originally Woolworths. Part of the Savoy Buildings.
Greggs
bakery
Previously Weigh and Save, Dewhurst butchers, Gadsden. Part of the Savoy Buildings.
Nationwide
bank
Previously Singer Sewing Machines, Netwears, Chapmans Laundry. Part of the Savoy Buildings.
Westbury Road
Argos
Previously Tesco Home & Wear, Victor Value supermarket, originally Green Shield stamp shop, built on site of a house.
Stones
coffee shop
Previously Ronald Wilson (jeweller), Coopers/Bollom, Bata, Share Drug Store, Dorothy Perkins, London Menswear, Zoe Clothing, Celebrations.
McDonald's
fast food
Opened 1985. Previously the grand Embassy Cinema (1938-1983), Alexandra Theatre (1906-1938), Electrical Theatre.
McColl's
newsagents
Previously branded Martin's, then Bartletts, John Turner Ltd, Lamb & Coleborn.
alley to back of shop/Flying Angel
Rancho Steakhouse
restaurant
Previously Halifax, Barclays Bank, post office, and fire station
Noble Hair Company
hairdressers
Previously Hug jewellers (2010), Ronald Wilson (until 2006), Halfords?
vacant
Previously Reed.
Post Office
Previously The Horse & Groom pub, Temperence Hotel
Naomi House
charity shop
Oasis Recruitment upstairs. Originally the White Horse pub.
H&T Pawnbrokers
Oasis Recruitment upstairs. Originally the White Horse pub.
Golden Touch
arcade
Previously Slot Casino (2010), Playland (2009), Smith and Vospers bakery.
TSB
bank
Previously Cheltenham & Gloucester (2013)
Sue Ryder Care
charity shop
British Red Cross
charity shop
private alley to Malthouse Lane
Tiffanys
dress shop
The Money Shop
A Western Union brand.
The Stubbington Ark Shop
charity shop
Local charity.
London Camera Exchange
vacant
La Diva
beautician
Headway
charity shop
Previously Sweets N Treats, B Tatford Family Butcher.
Whistlers
restaurant
Previously Deep Blue, B Tatford Family Butcher
Pizza Hut Delivery
fast food
Previously Santander, Alliance & Leicester, Hardings Family Repository.
Osborn Road South
Abbey Electrics
electronics
Previously Techno Trade.
PK's Tattoos Piercings
tattooist
Previously Wain's and then Quarton's greengrocers.
Farm Forest & Sea
Previously P&S Cripps Fishmongers (1916 - 2013)
Skoolkit
childrenswear
Moved here from Trinity Street. Originally Connaught Territorial Army Centre.
Consol Suncenter
tanning salon
Tang, Bentley & Jackson
solicitors
Previously Glanvilles Solicitors
vacant
Was Pam Purred Pets until 2015, demolished in 2016
HM Hair Design Group
hairdressers
Cash Converters
A Western Union brand
One Five Seven
meanswear
Solent Cycles
bike shop
Previously Cycle Paths (2009)
Kens Fried Chicken
fast food
Previously a hotel, and a gas showroom.
Trinity Street
Community Action Fareham
Part of Church View House. Rebuilt in 2008 to replace a pub-club, known as (in reverse order): MODA, Pitchers, Daniels, Royal Oak
Big Pete's
tattooist
Part of Church View House, opened 2008. Previously Wools.
Craft Crazy
gift shop
Part of Church View House, opened 2008.
The Fareham Gallery
art shop
Part of Church View House, opened 2008.
Jendenink Craftwork
art shop
Church upstairs. Building built in the 1960s, originally McIlroys department store.
McIntosh Funeral Directors
funeral directors
Previously Ideal Kit electronics, originally McIlroys department store. Church upstairs.
Cafe Imbizo
coffee shop
Previously Tino's Coffee House, Classic Carpets and Techno Trade - a huge electronics store. Church upstairs. Building built in the 1960s to house Pricerite supermarket.
Fareham Community Church
church
Access to upstairs. Building built in the 1960s to house Pricerite supermarket. Before that there was a row of shops here, including Mrs Jemmet's sweet shop.
South Coast Appliances
electronics
Part of Portsdown House. Previously (in reverse-order): Techno Trade, McIlyroy's, Dodge City, Pricerite supermarket.
...by Lisa Marie
dress shop
Previously Bathroom World (2011), Bastins Schoolwear (2009). Part of Portsdown House.
Portsdown House access and alley to Russel Place
Kimbers Keyboards & Musical Instruments
music
vacant
Previously The Hayward Studio.
alley to back of shops
Domino's Pizza
fast food
Originally a hotel?
LJ Chinese Restaurant/JoJo Gelato
restaurant
Previously Jefferys Furniture Store
Golden Boat
restaurant
Second-oldest Chinese Restaurant in town, the first being in Portland Street. Previously The Cresta Run Coffee Bar, popular with teenagers. Approximate site of Reynald's wallpaper and Arlington's Nursing Home.
SDM Coffee House and Design
Previously branded Printing.Com
Swinton
insurance
Previously Colonnade (2010), Equity (2009), Barclays
alley
YMCA
Thackeray House. Previously the Job Centre.
Marked and Sparkling
antiques
N&S
newsagents
Previously Pyramid News, Bizzleys. Rama hair stuido was originally upstairs.
Fareham PC Centre
computing
Previously The Kleen Machine, Ian Glazer estate agents.
Beauty Solutions
beautician
Previously Pearsons estate agents.
Praills Opticians
opticians
Lydia Rose
boutique
Previously Access Key & Lock, CentreSecurity locksmiths
alley to Derlyn Road
Town Cut
hairdressers
Cafe Ethos
coffee shop
Previously West Street Dental Clinic (2010), SBK Estate Agents.
The Childrens House
Previously The White Cockade restaurant.
South Side
Shop
Current Purpose
Notes
JMS Financial Consultancy
Upstairs. Previously FPR Tech, Addecco.
Buzz People
Previously Holmes and Company
Fox & Sons
estate agents
alley to back of shops
Offices upstairs.
vacant
Previously La Saletta
Whites
estate agents
Previously Thomas Bushell, Barons, Leppards, Walker Waterer, Helleyers Coaches
Adelaide Place
Ask Italian
Previously Butler & Cooke estate agents, Friday Ad.
alley to new Tesco road
RBS
bank
Site of the Kings Arms pub.
vacant
Previously Designer Kitchens. Site of the Kings Arms pub.
British Heart Foundation
charity shop
Previously Courts
Antonio's
restaurant
Previously The Braemar Grill
Cubitt & West
estate agents
Leaders
estate agents
Cafe Tusk
restaurant
Previously GA Days builder's yard, Radfords (1960s), H Clark ironmonger. The Solent Club, which moved from a snooker club to a nightclub, was upstairs and closed after arson.
Quay Street
The Tavern
pub
Previously The Market Tavern, The Brass Monkey, The Bugle. Knocked through to next door.
alley to back of shop
Stephens Barbers
hairdressers
Iceland
supermarket
Built 2006 on the site of a car park. Before that Hinxman's garage.
Supercuts
hairdressers
Rough location of Gabbies burger bar.
The Crown
pub-restaurant
A Wetherspoons brand. Converted from a brewery.
Nailz
beautician
Previously Tresmonds hairdressers, West Street Arcade (late 1980s).
Beals
estate agents
Previously Manpower, now in Church Path.
Natwest
bank
Originally the Market Hall / St Peter and St Paul's Parish Hall, Market House court. Previously Provincial Bank.
Cafe Nero
coffee shop
Part of Market Quay development (2005). Site of Price's School? And the fire station.
JJB Sport
sports shop
Part of Market Quay development (2005). Original fire station.
Cremer Mall
Outdoor shopping street, built 2005. Opposite the grandstand. Originally entrance to the cattle market.
The Slug and Lettuce
pub-restaurant
Previously Vangard. Part of Market Quay development (2005)
United Reform Church
pub-restaurant
Occupied by The Vangard, now Slug and Lettuce. Before that it was a soup kitchen, then the Congregational Church.
delivery yard
Previously NCP car parking (1980s), cattle auction access (1920s)
Warner Goodman
solicitors
Portland Hall (Portland Chambers). Previously TSB, the Lecture Building, Town Hall, Corn Exchange, Portland Hall, a post office, a bank.
Willows Furniture
furniture
Part of Portland Hall. Flower sales outside. Built 1835 to symbolise Fareham.
delivery yard
Location of Portland Street
TK Maxx
clothing
Part of Market Quay development (2005), previously a car park, originally Hants & Dorset and Southdown bus station (until 1992), Thackeray Cottage (until 1931).
Wilkinsons
supermarket
Part of Market Quay development (2005), previously a car park, originally Hants & Dorset and Southdown bus station.
Betfred
bookmarkers
Part of Market Quay development (2005), previously car parking, originally the site of a Wesleyan chapel.
Robert Dyas
outdoors
Part of the Market Quay development (2005), previously market space
Harper Way
Taxi rank. Built 2005. Rough location of Savon.
Westbury Manor
museum and coffee shop
Previously Fareham Urban District council offices (1932-1972), before that the town workhouse. There was a Southern Electricity Showroom on the corner.
Hartlands Road
The News
newsagents
A-Plan Insurance
insurance
Previously Olan Mills Family Portraits (2008), Betfred (2005), Fareham Carpet Centre.
Capelli
Previously Murray's Meanswear.
Cheque Centre
A Western Union brand.
Age UK
charity shop
Previously branded Help The Aged
Ladbrokes
bookmakers
The Lord Arthur Lee
pub-restaurant
A Wetherspoons brand. Previously a three-storey Co-op, with fabrics and electricals downstairs, clothes and furniture on the second floor, and a café upstairs. After that a gym.
Fast Tan
tanning salon
Part of Chequers House.
Cassino
arcade
Part of Chequers House.
Naz
restaurant
Rainbow
charity shop
Previously www.blindintuition.com (2010), The Well Christian Shop, Christian Books and Gifts and coffee shop, Franks Café
Hampshire Sewing Machine
Previously Wools?
The Wellbeing Centre
Prevously Spotlight (2010)
vacant
Previously Kallkwik, and a shoe repair shop.
Kings Road
Originally home to Maria's Café, Norman's barbers and Dorothy Grace florists.
Alterations
clothing store
Part of Foresters' Hall.
Tkuk
gadgets
Part of Foresters' Hall.
The Bridal Suite
dress shop
Part of Foresters' Hall.
Birks
furniture
Part of Foresters' Hall. Knocked through to next door.
La Orient
restaurant
Bodrum
fast food
vacant
99p Store
budget store
Previously Zodiac Cash & Carry. Formerly a Co-op, this one sold groceries, then Comet.
Holy Trinity Church
church and war memorial
alley to back of shops
Canton Express
restaurant
Previously The Pizza Place, Little Caesars Pizza, Wimpy Bar.
Oasis Convenience Store
newsagents
vacant
Formerly Swinton - they moved over the road, previously Evening Echo.
vacant
vacant
vacant
Rawsons The Florist
florist
Nail Creation
beautician
In With The In Crowd
clothing store
Lisa Edwards
hairdressers
Sarah Jayne
furniture
Previously Grandford Carpet Mills, Fareham Art Gallery.
Simon's Barber Shop
hairdressers
Fareham Sewing Machines
Fareham PC Centre
Previously The Door Store.
Vintage Tea Rooms
tea rooms
Previously Antiques of Fareham, Quickstitch.
The English Cutting Company
Steve Ellis Hairdressing
hairdressers
Previously Kitchen & Bathrooms, Katie-Anns
4u2brew
wine-making
Previously Harvey Homebrew
The Corriander
restaurant
Previously Rahuls Takeaway.
Chris Gage Hairdressing
hairdressing
Rovers Fishing Tackle
fishery
Knocked through to next door. Previously Beaumonts, Shirtking.
Solent Diabetes Association
charity shop
Oxfam Books & Music
charity shop
Fareham Fireplaces
fireplaces
Indian Cottage Restaurant
restaurant
Previously the notorious Star of Bengal?
Perfect Pizza
fast food
Cartridge World
computing
Envy
hairdressers
Previously Curran Insurance Brokers.
Kree-ate-a-Cake
Previously Abbey Electrics.
Kraftea Coffee
coffee shop
Previously A Touch Of Class, Lloyds bank.
Howes By Lucy
Previously Fareham Nets, Rice Scholes and Blake solicitors.
Grove Care Group
Previously Millards, L S Vail estate agent.
Crescent Road
vacant offices
Previously a yard for Glider Coaches
alley to autocentres
private house
Previously a yard for Glider Coaches
Jack's Fish & Chips
fast food
Previously W Hansons' fish and chips.
Hargroves Cycles
bike shop
Sea Of Spice
restaurant
Previously branded New Spice Indian Restaurant.
Scientific Services (Paisley) Ltd
Previously Bunce's Model shop.